This is what I was wearing to the exclusive blogger event from last week.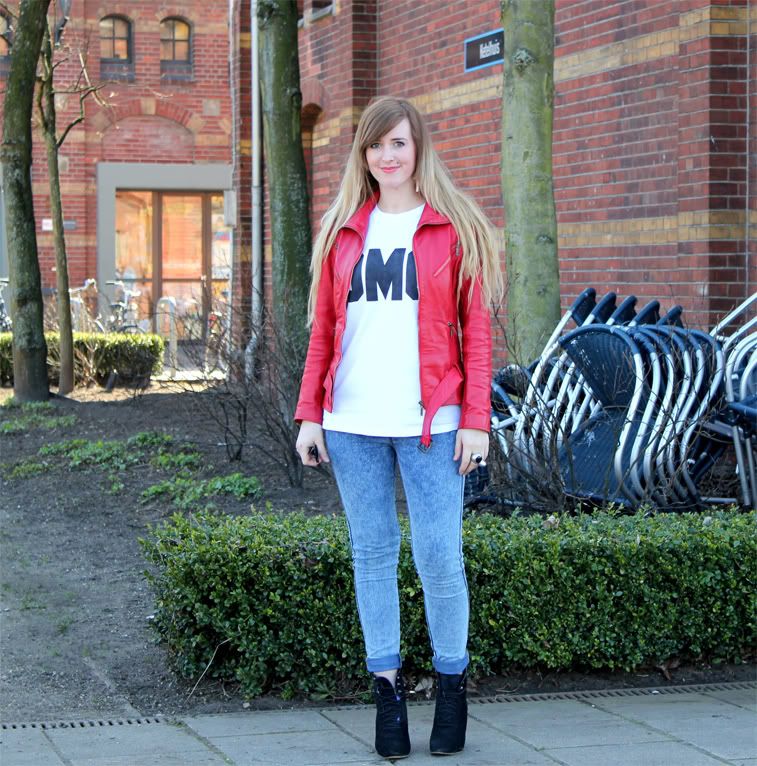 Red leather jacket - no brand (old) // OMG shirt - Topshop // Blue acid jeggings - Primark // wedges - Zara // Sunglasses - Ray Ban Aviator
I'm sorry for the lack of updates, but I wasn't really in the mood. My relationship ended after 5 years and it feels like 5 years down the toilet... No more Mexico this summer as well.... It feels like everytime I'm past a shitty phase in my life another one hits and I'm sick of it! I could write a lot about my feelings and frustration at the moment, but I'm not gonna bore you with that. I already have a new project in mind; Eat Party Shop. My own version of Eat Pray Love haha, I've been doing some research the past 2 days about temporary moving abroad. My first choice was New York, but since I'm too late for an exchange program it will be very difficult to get a visa and very expensive! So my other options are Barcelona, London or somewhere in Italy. I think I'm gonna learn Spanish in Barcelona first and of course party a lot, I remember when I was there last year and I had to cry because I had to leave this fantastic city... or I just didn't want to go back to my boring life haha. After that I'll come home to earn some money for my next trip... in Italy! Where I'm gonna learn Italian, eat the most delicious food, shop (I'll probably be broke the moment I set foot in a shop) and of course party again! What's the best city in Italy to go to? I'm thinking about Milan or Florence. I can't wait to leave! Has anyone done something like this before? Please tell me about it / share some tips!